AccessiBlog topics
---
Building Accessible Websites
now available
Buy the frigging book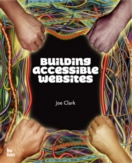 The AccessiBlog is one of five Joe Clark Weblogs (Axxlog, Bookblog, fawny.blog, NUblog).
You are here: joeclark.org > Captioning and media access >
Web AccessiBlog > Testing
Updated 2002.10.12
We find a few sites here and there that focus on testing of accessible Web authoring. The Usual Suspect in this regard is of course Bobby, which is overrated, outdated, and underpowered (though we understand a full-on upgrade is in process). What else is available? Not much, but here we go.