On this page
Everything not otherwise categorizable, and...
---
AccessiBlog topics
---
Building Accessible Websites
now available
Buy the frigging book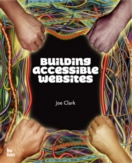 The AccessiBlog is one of five Joe Clark Weblogs (Axxlog, Bookblog, fawny.blog, NUblog).
You are here: joeclark.org > Captioning and media access >
Web AccessiBlog > General
Updated 2002.10.12
Miscellaneous articles and resources. And you know, I should really subcategorize these, but I'm not gonna bother until I get this thing running offa database, which will probably never happen.
Flash
Flash accessibility: Unclear on the concept: Macromedia is taking baby steps toward accessibility, but they seem unaware of just how big the job is (

2001.01.11

)
And after the bitching, some fair evaluation of Flash accessibility: Flash MX: Clarifying the Concept (Joe Clark) and Moving Toward Accessible Rich Media (Andrew Kirkpatrick;

2002.06.10

)
Relevant Macromedia sites: