AccessiBlog topics
---
Building Accessible Websites
now available
Buy the frigging book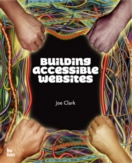 The AccessiBlog is one of five Joe Clark Weblogs (Axxlog, Bookblog, fawny.blog, NUblog).
You are here: joeclark.org > Captioning and media access >
Web AccessiBlog > Specs, standards, and tutorials
Updated 2002.10.12
Virtually all online accessibility resources are glorified rehashes of the World Wide Web Consortium's Web Accessibility Initiative guidelines, which are opaque, very poorly organized, daunting, and in many cases unrealistic.
I do exercise a certain editorial judgement in selecting links for this page. I'll add links to specs, standards, and tutorials only if they are markedly better than the Web Accessibility Initiative guidelines and do not simply recapitulate them. As ever, suggestions are eagerly solicited.
The World Wide Web Consortium has released Web Content Accessibility Guidelines 2.0. You can discuss the changes on a mailing list. The relevant issues of contention are described here. (2001.01.28)