AccessiBlog topics
---
Building Accessible Websites
now available
Buy the frigging book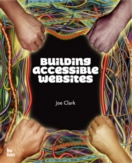 The AccessiBlog is one of five Joe Clark Weblogs (Axxlog, Bookblog, fawny.blog, NUblog).
You are here: joeclark.org > Captioning and media access >
Web AccessiBlog > Screen readers
Updated 2002.11.26
Screen readers, used by blind and visually-impaired Web-surfers, read text, menus, links, and other visual interface elements out loud in a selection of voices. If your page doesn't work well with a screen reader, it isn't very accessible.