NEW! Updated seven years later – after doing some paid work for the TTC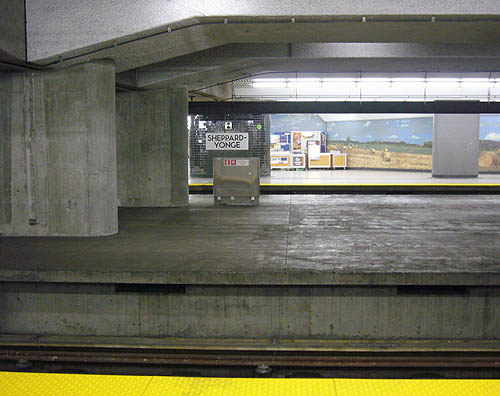 I know I closed up shop seven years ago after endlessly slogging against the bureaucracy of the TTC.
But I kept slogging. And the TTC hired new blood, chief among that number Chris Upfold, who actually understands what design is. We met several times, which I could tell you all about. On certain lucky days and weeks, he and I are friends.
In any event, in 2015 my business partner and I scored the impossible: A paid consulting assignment on the topic of TTC signage. The task was to locate deficiencies in the current signage system. My methods were as simple as could be: I set myself common, uncommon, and rare tasks and tried to carry them out purely by using TTC signage. Those tasks were:
Enter Eglinton station and get to Eglinton and Mount Pleasant by bus
Climb to streetcar level at Broadview while writing a text message
Get from Chester station to the Dufferin Mall
Enter stations using only senior tickets
Take the 64 bus
Take the Community Bus (by far the most interesting task)
Get from Main station to the nearby GO station
Walk into Yorkdale (don't!)
This is the only signage evaluation in the history of the human race with a footnoted reference to J.G. Ballard. (The topic there is the environs of Yorkdale station. I actually wanted to call Yorkdale an exurban Ballardian hellscape but held back.)
Documents available
2016
On 2016.07.27, I gave a presentation to the TeX Users Group (TUG) conference, Toronto, on the subject of TTC typography. Full notes and resulting journal article ☛
2015
See the homepage for these items, which includes an August 2015 update about how I never expect to hear from the TTC again.
Although I wrote all the copy in HTML, I'm not re-converting this illustrated, well-typeset tagged PDF (legal landscape format; spot the typo)

Yes, the TTC signage manual from September 2014. (Tags added, minor metadata redactions)