Star turn
First, my presentation: "High Design, High Accessibility." The blurb I wrote for the conference program read:
Some Web designers think "accessibility" means "text-only site" and hate the idea, while some accessibility advocates think the same way and love the idea. They're both wrong: Sites require the highest possible accessibility and the best graphic design. This session explains how to achieve both.
I wish I'd had the gumption to entitle it "High Design, High Access" (punchier), but am happy I avoided the overly plain and unadorned "Accessible Sites Don't Have to Be Ugly as Shit."
Saturday afternoon, I lounged with Adam "Milagro Greenfield War" Greenfield in the ostentatiously vulgar lobby of the Omni Hotel in Austin, hoovering my presentation onto his TiBook. I seemed not to have included every necessary file on the CD I'd specifically burned at 0500 hours of the Friday I flew to Texas. A piker's error, really.
At the conference, the AV fella, Bill, put me in the wrong room. I had, in fact, been given the largest room in the conference, just like keynote speakers. (Not bad, huh?) Once I had avoided showing up late for my own funeral, we plugged Adam's PowerBook into the projector and Bill rejigged the display settings.
And nothing happened.
Bill, frustrated, but cool. "Well, I've never had this before"
I watched people file in. I photographed them, in fact – very 21st-century.
My adoring public. I didn't bomb. We hit about 60% capacity in a room twice as big as all the others. The Whole Foods shopping bag is mine, laden, in my hausfrauesque manner, with seemingly the only food in Austin I could actually eat. I cut a dashing figure wandering the conference halls with a shoulder bag and a shopping bag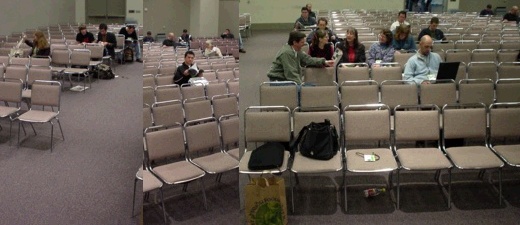 I decided to try the house PowerBook. Behold: A strong WiFi connection.
(Throughout South by Southwest, I endured overly-literal geeks pronouncing that locution as "Why-Fye." Well, I mean obviously it's "Wiffy," right? Much more fun that way, don't you think?)
I re-hoovered my presentation.
The house PowerBook was up and running on the projector in seconds. Bill turned on my lavalier mike and buggered off to dig someone else out of a similar emergency.
Aaand... we're on!
I killed
Apart from a wee bit of audio feedback here and there, and my eventual realization that the worst-case scenario had in fact been exercised (my shirt was tucked under the transmitter for my lavalier mike, leaving it visible!), the presentation went smashingly well. I was fluent most of the time, though speaking at my usual high speed, and lost my place only once ("Where was I? Right. WCAG").
Now, I had done a run-through at 0800 hours that morning in my superimpressive suite hotel. (Oh, I haven't told you about that yet? I will. Trust me, I will.) Using début-du-siècle technology – the timer on the microwave oven – to its utmost, I extemporized from a few pages of one-liner reminder notes in under 37 minutes. Onstage, I clocked in at 40:00 exactly; we were permitted to run overtime, and my fellow Sou'westers and I would spend another 35 minutes working together.
Why should they just sit there and listen to me talk some more? I had a better idea.
Audience participation
As we were swapping PowerBook for PowerBook until we got to one that worked, it dawned on me that:
nobody was here to introduce me, and all speakers should be introduced
if we're gonna be that informal, and if everybody can see that we couldn't get the machines working anyway, why pretend there's even a stage between me and the audience?
I decided on the spot to ask the crowd what they wanted to do after my presentation was over. Run through the many visual examples I brought? Do Q&A? Or stride up onstage to pimp their own sites, or other accessible sites they think are nice to look at?
Now, why didn't I think of all that before? SXSW is all about indie developers. Panelists are not all that different from audiencemembers, as adduced by the fact that nearly all panelists were in the audience for other sessions. When you repeatedly spot übermensch Cory Doctorow, appearing on two full panels at SXSW '03 and running solo on a third, sitting on the hallway floor checking his snatchmail like a commoner, can we quit putting on airs here?
Open-source conference presenting, you could call it, though what I called it was the Centre Pompidou approach, where the plumbing sits outside in plain view.
Serious advice for SXSW '04: In longer panels, encourage presenters to poll the crowd about what it wants to do, and come prepared for a few likely options.
---
Badge-cruising
If you're gonna hand me a nametag, I want it to say HI! MY NAME IS so I can write the word MUD under it.
In any event, at a gathering where everybody wears a nametag, you find yourself staring at tags rather than faces. (Really, isn't that the Web designer's dilemma? Tags vs. faces?) So you end up looking at girls' tits, not that I care.
But at a conference where people only know you by your Web address, it's even worse!
So you end up getting badge-cruised. You're just sitting there and somebody walks by and intently stares at your badge for a tenth of a second.
You got badge-cruised. Particularly if, as with real cruising, he looks right away a tenth of a second later.
Break Bread with Brad
Now. What is the purpose of attending SXSW if you don't Break Bread with Brad? This gorging at the Texan feedbag takes place annually, and is the event during the festival.
Brad L. Graham, you see, is a startlingly droll Web habitué. He's been online forever, and, unfortunately, embodies homosexualist stereotype by working as a theatre publicist. (Bruce LaBruce: Are you sure you want to come out? Are you really prepared for a life in the theatre?) But a theatre publicist in St. Louis.
I dunno if he's actually happy. I have some acquaintance with writing well and amusingly yet being unhappy. He does, however, induce happiness in others. His wit in person is as rapier as in writing; it is true esprit. Ben Brown, take note: This is your next author.
BBwB this year took place at some generally appalling steakhouse named (inevitably) Stubb's. "When I hear the word 'steakhouse,' I take out my tofu." I gamely attended.
In fact, I got shanghaied. En route to the swank Omni to pick up Adam and my posse, Toronto queens and their intimes minced smartly out of the hotel, sweeping me along with them.
We laboured to Stubb ourselves. On the correct street at last, we viewed an enormous queue outside the restaurant. (Why didn't I snap a photo?) Walking past, I espied a fenced-off entrance leading to a sunken pit with a bandstand, rather as if a tailings-laced quarry had been reclaimed in a post-nuclear civilisation that really missed its rock & roll.
A murmur spread through the queens. Yes, the living legend Miss Loretta Lynn was scheduled to play that night!
But not at Stubb's. That was down the street. No lineup there or anything. Fine with me: The Loretta Lynn types were fat Texans in cowboy hats and wraparound shades, some of them seated on folding portable nylon chairs, what with the gout.
Then again, so was everyone at Stubb's.
We were ushered to the back patio, inconveniently overlooking the bandstand ("Check-one-two. Check. Check"). Behold... Brad!
Brad L. Graham. Door-prize T-shirts made a questionable assertion: " '

A DRY CRACK IS A HAPPY CRACK

.' Though that hasn't been my experience"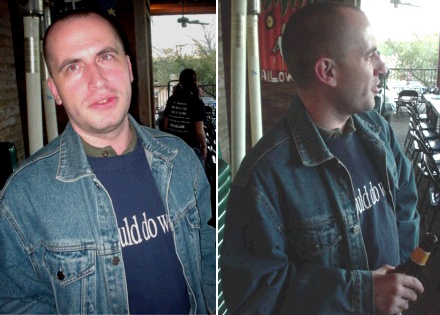 There were already ten of us. An hour later, 40. Ninety minutes later, more than 70. In what a naïf would view as a spectacular coincidence, I sat alongside the head of the head table. I could have stood up and touched balls with Brad. (Actually, that's what they did the next day at Anil Dash's kickball game: The Break Balls with Brad team triumphed 2–1.)
Look. It was great, OK? I have shit photographs and no notes whatsoever, save for the following anecdote. Shaun Salnave sat right across from me. Never having heard of him, I made his acquaintance. He also turned out to be a vegevore, meaning the waitress could kill two bird substitutes with one stone as she scoured the menu for what proved to be a mere three food items not containing animal products. Shaun also ate the fries, though their oil was treyf.
I told the nearby Nikolai Nolan that Shaun Salnave had been deemed morally acceptable. I stuttered and almost said "accessible"; force of habit.
"How do you decide who is morally acceptable?" Nikolai asked.
"Imperiously."
"How do you decide who is morally accessible?"
"The same way."
Adrian Roselli's camo manpurse & Mark Couvillion's (friend's) Lomo. Adrian is a progressive Buffalonian software developer prone to reasonably-high-quality Hawaiian shirts, while Mark radiates essential goodness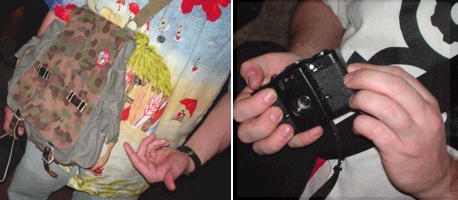 ---